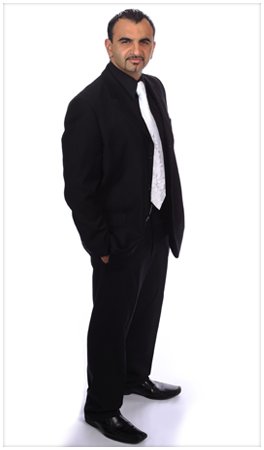 DJ Eddie is one of the most Well Known & Hugely Popular DJ's in the Persian community of Los Angeles, CA. He has over 22+ years of experience, seamlessly blending multiple styles of music from around the world, and has also graced his presence as a performer in over 7 countries. He is infamous for his International Dance Music selection, as well as his Eclectic taste for different music Genres. He Performs for Weddings, Engagements, Bar/Batmitzvas, Formal Events, Fundraisers, Bris', Private Engagements, House Parties, Birthdays or any type of Event that calls for Amazing Music. His Musical selection includes Persian, Latin, Arabic, Electronic Dance Music (House, Progressive & Trance "Techno"), Israeli, Hiphop, International Sounds from Turkey, Armenia, France, Italy and Brazil (All other national music not listed are played by clients request). Eddie is also known for playing pop music from multiple decades including the 60s, 70s, 80s, 90s and the best in current pop music. His choices can range from Frank Sinatra to the Gypsy Kings. He is also known for playing a unique mix of Chill/Lounge Styling's similar to Buddha Bar & Cafe Del Mar.
The Ecstasy Band is a collaboration of popular Musicians in the Los Angeles Area, known for their variety in all styles of music listed above. Each one was individually selected due to their musical talents, and each has their own unique element to making the group Synergetic during live performances. The Band can be as little as 4 members (client can pick and choose which instruments they'd like), or as Massive as a 13 Musician Ensemble. The Ecstasy Band consists of Drummers, Violinists, Guitarists, Percussionists, Spanish Guitarists, Saxophonists, Harpists as well as novelty Middle Eastern instruments. The Ecstasy Band typically performs for Events such as Weddings, Engagements, or any type of Event in which a Big Stage Presence is needed. Commonly they are utilized as well during cocktail hours for Events to bring a truly Live Experience from the start of the Event.
Joined together, DJ Eddie & The Ecstasy Band bring an above average feel to the Live Disc Jockey Experience with the elements of a Wedding Band. The #1 emphasis for DJ Eddie is to guarantee complete satisfaction in each of his clients' individual needs. As you will see from the sample videos, no two events are alike, and Eddie meets with each client multiple times prior to their Events, and walks them thru the process of selecting only music that they would like represented at their Event. Custom tailoring the Music for your Events will be the Ultimate way to make it truly yours. There is only one word that will sum up your experience with DJ Eddie: AMAZING!